EDS News
£200,000 Boost Enables Sandown Court £3.3m Go Ahead
Preston-based Lancashire Community Finance has provided a £200,000 loan, in partnership with Preston-based social enterprise EDS (NW) Ltd, to enable residents of Sandown Court, Avenham, to access £3.3 million of grant funding to improve the energy efficiency of the 244 flat building.
As the largest single home improvement loan in the not-for-profit company's history, the six figure sum from Lancashire Community Finance has allowed the Sandown Court Management Company to make up the contribution required per flat to access the full funding from Scottish and Southern to cover the work.
The project will see the buildings completely reclad, fitted with new triple-glazed windows on glazed in balconies and given a new biomass boiler which will run off woodchip and heat the buildings and provide hot water.
Elaine Rimmer of Lancashire Community Finance said: "We are very proud to be able to provide this loan, which basically constitutes our home improvement loans on a mass scale.

"Home improvement loans form a big part of our mission to reduce the number of financially excluded people in the Preston area. After Sandown Court Management Company had been turned down by their bankers and other high street banks, the whole deal would have fallen through if we had not been able to provide them with a loan. We are very grateful to our partners EDS, who were able to provide the funds by the deadline to secure the full investment."
Pat Donoghue of EDS (NW) Ltd said: "We were very pleased to be able to work with Lancashire Community Finance to provide the much needed funds to the Sandown Court residents as it fits with our remit to invest in the local community. Timing was of the essence as there was a strict deadline for Sandown Court to get their part of the fund together in order to access the full funding from Scottish and Southern. Working with Lancashire Community Finance we were able to provide a quick, no-nonsense solution so that the residents could get the funding in time to meet the deadline."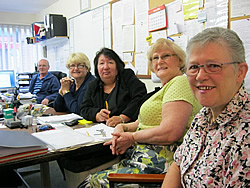 Greta Nicholson of Sandown Court Management Company said: "The funds from the Lancashire Community Finance loan were essential in making up the overall funds required which came from residents' quarterly management fee. The loan means that residents will not have to make up the extra funds directly, which would be impossible for many. The loan has allowed us to avoid extra financial pressure on residents, while investing in work which will save them money in the long term through greater energy efficiency, meaning they are better off in the long term, enhancing their lives."
Lancashire Community Finance home improvement loans provide finance for owner-occupiers in Preston to carry out structural renovations and repairs to kitchens, bathrooms, windows and central heating. Personal loans for residents throughout Lancashire provide a fairer rate alternative to door-step and high interest lenders.
For further information go to www.lancashirecommunityfinance.co.uk, call 0844 5611292 or call into the company's offices near the Corn Exchange pub on Fleet Street, Preston.
Community Gateway Association, Preston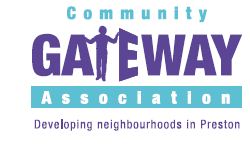 Over the past six months EDS has been working with Community Gateway Association in Preston, on initiatives designed to reduce levels of worklessness on their estates through the in-sourcing of services.
The project initially consulted tenant and resident representatives and officers on existing service provision, and opportunities to establish arms-length social enterprise businesses which could improve service delivery as well as provide employment opportunities for local residents. After considering over a dozen service areas the study focused upon three that had the potential to operate as successful social enterprise businesses: a housing maintenance and repairs business; a homecare business and an environmental services business.
After the first stage of the options appraisal, CGA's board made a decision not to renew the repairs and maintenance contracts and establish a new in-house service. During the second stage, EDS undertook an in-depth analysis of the viability and job creation potential of the remaining two proposed businesses, recommending: the establishment of an arms-length environmental social enterprise business which would focus on the delivery of the two in-sourced grounds maintenance contracts and in-house gardening, landscaping and fencing activities; and the establishment of a joint venture with a care co-operative to provide a homecare service.
Both recommendations are now under consideration by CGA's board.
Pre-Employment Skills Training - London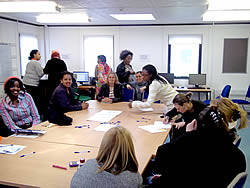 In February 2010, EDS was awarded a contract by the London Development Agency to deliver pre-employment skills training to long-term unemployed residents of Islington. The programme of training would be based on a direct link between the requirements of employers and identified job vacancies on the Kings Cross development and within its related supply chain.
The Kings Cross Central development is the most significant project of its kind in central London, with outline planning permission for 8 million sq ft of mixed use land, including office space, hotels, a university, housing retail and leisure. It is being delivered by the Kings Cross Central Ltd Partnership, which includes major employers such as Argent Group plc, Hermes Real Estate, London & Continental Railways Ltd and DHL Supply Chain.
The development presents significant employment opportunities for the residents of London and, in particular, the boroughs of Camden and Islington. The comprehensive programme of training provides benefits to employers on the emerging Kings Cross development site by providing potential employees with the entry level skills required by the relevant industry sector – whether construction, retail, commerce or leisure.
This programme of targeted training aims to contribute to improved business competitiveness by reducing recruitment costs and offering a better match between job seekers and job opportunities. Local employers are actively involved in designing the training, identifying the employment opportunities and offering guaranteed interviews.